Estuary: an Audio CD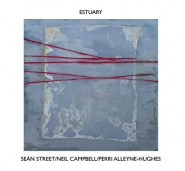 Posted on 17th March 2017
Estuary, Seán Street's sequence of poems about rivers, harbours and tides was first set in musical form by Neil Campbell with vocals by Perri Alleyne-Hughes, and premiered at the Writing on the Wall Festival, Liverpool, in May 2015. Now, a CD studio recording has been issued, launched at the 2017 Festival at The Capstone Theatre, Liverpool in May.
"Estuary is a journey, a meditation on mortality, of the ebb and flow of life itself..." - Tom Calderbank, Nerve Magazine

"A calming and absorbing listen which tastefully encompasses the spoken word with classical guitar, atmospheric soundscapes, electronica and interspersed with warm velvety vocals... an album to be savoured in its entirety" - Bob Mulvey, The Progressive Aspect
credits
The album can be ordered here: https://neilcampbell.bandcamp.com/album/estuary or purchased from News From Nowhere Bookshop, Bold Street, Liverpool.
Artist Peter Dover has created an evocative video of Seán's best known poem, 'Shipping Forecast, Donegal': https://www.youtube.com/watch?v=E-Igy9Sb1BA&feature=youtu.be
The CD is presented in a glossy gatefold sleeve, featuring an original acrylic artwork, 'Fog Music 2' by painter and printmaker Jemma Street.