The Memory of Sound in paperback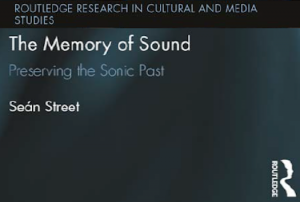 Posted on 30th June 2014
Seán Street's book, The Memory of Sound: Preserving the Sonic Past, was published in paperback on 1 June, 2016 by Routledge as part of its Research in Cultural and Media Studies series.
Seán commented: 'As chance would have it, publication came on the eve of my 70th birthday, perhaps an appropriate day for a book about human memory to enter the world!'
Details can be found via this link: http://www.routledge.com/books/details/9780415713986/
Comments on the book include the following:
This is an important book by a writer who understands the power of sound as a broadcaster, as a researcher, as a listener, and, above all, as a poet. Seán Street has already shown us in his earlier work, The Poetry of Radio – The Colour of Sound, how what we hear and how we hear it cuts to the heart of how we feel and how we understand – how we see. This book, in effect a sequel, examines, without jargon or heavy-handedness, the way that sound triggers and recalls memory, how, 'given the right circumstances, the sound of the past can be caught by the memory like a photograph'. Drawing on his own life and experiences, and in conversation with specialists in key areas of research and practice, Seán Street, in 155 closely argued pages, brilliantly illuminates how sound, our first and last sense, runs like a flash of lightning through time lost and found.